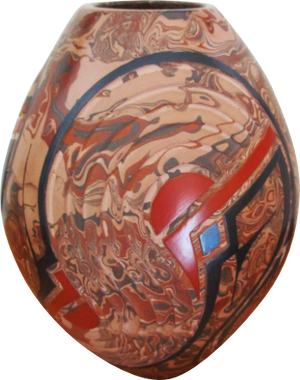 SALVADOR BACA
Sale price Price $1,200.00 Regular price $1,200.00
Height 8"
Circumference 17.5"
Carved perfect curved parallel lines on a mixed clay surface and painted with extreme care and expertise
About the artist and his wife Virginia:
Virginia learned the basics of pottery from a sister of hers, at that time Salvador was working in the accounting department for a company.  But in time he realized he was a better potter than an accountant, quit his job and dedicated completely to it.  
They have always done miniatures, black most of the time. She forms the very thin wall pieces and let them dry inside of a carton box in their house for about 2 to 3 days. Then Salvador sands them and makes delicate cuts in different shapes and burnishes them until he gets a shinny surface. Following the cuts he paints Paquime designs over the surface.
Then they fire them following the traditional way: outside of their homes, over the ground they seat the pieces to be fired, cover them completely with a metallic bucket, put cow manure around and fire for about half an hour. Since they do not receive any oxygen during the firing they turn black.
These are the miniatures they are famous for. With them they have received many first prizes on the Miniature Category during the yearly Mata Ortiz Contest. They have also won the "Premio Nacional de la Cerámica" (National Ceramics Contest) in Tlaquepaque.
They travel to the United States all the time to exhibit their works in fine art galleries or museums.