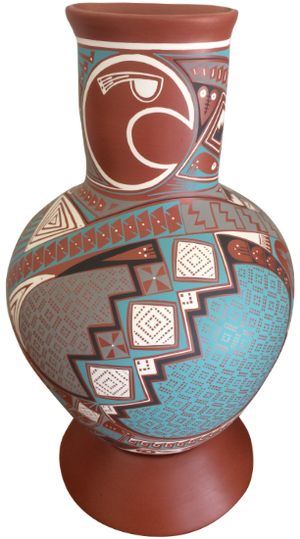 ROCIO SILVEIRA
Sale price Price $950.00 Regular price
Ceramic piece on an elegant shape and painted with extreme care on curved and geometrical design.
Please check for availability at orocarolina2@gmail.com
PRICE IN USD
Height 12.5"
Circumference 22.5"
 About the artist:
When Rocio was still a child she used to help her father to polish the pots and to paint the inside of each square his father painted on the pot.  She got married when she was 18 years old with Fabian Ortiz who is a potter too so from then on she helped him do pottery until she learned to do her own pots and paint the intricate geometrical designs on them. Nowadays she is an extraordinary potter but she claims she is still learning.