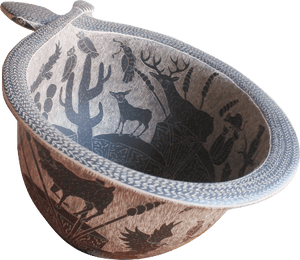 OLIVIA DOMINGUEZ
Sale price Price $1,900.00 Regular price $1,900.00
Height 5"
Diameter 8"
Fantastic desert design piece carved with great refinement on a white clay pot.
About the artist::
She started to learn when she was 8 year old thought by her parents Francisco Cota (+) and Juana Lidia Rentería (+) but actually started to sell her pieces when she was 16 years old (1989). Her most stricking pieces are formed in white clay with intricate animal effigies.  She also works pieces in red and black clay and oxygen reduction firing to get black on black pieces.
During the last 6 yearly Mata Ortiz Contests she has won either 1st. or 2nd prize and/or  Prize to Excellence. In the Tonala Contest (Jalisco) she has won first prize for two consecutive years. During the Desert Museum, Women of Mata Ortiz Contest in 2012 she won first prize on effigy category.