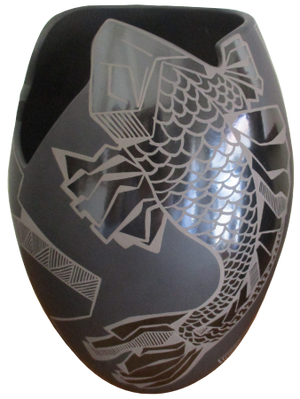 MORONI QUEZADA
Sale price Price $1,250.00 Regular price
Elegant shape, perfectly painted design on a black on black piece. He inherited the gene of his mother Lydia Quezada.
PLEASE CONTACT US FOR AVAILABILITY OF THIS PRODUCT
PRICE IN USD
Height 11"
Circumference 22.5"
About the artist:

The son of two very talented first generation of potters Lydia Quezada (sister of the Master Juan Quezada) and Rito Talavera he soon learned the ceramic artistry. He mainly makes black on black pieces like his mother. He burnishes the piece to get a shinny natural look and then he paints the black mate design with manganese to get the striking contrast.