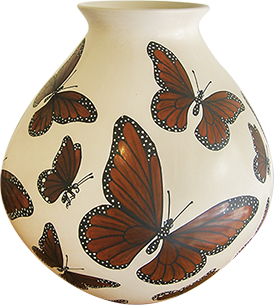 LUPITA MORA
Sale price Price $800.00 Regular price $800.00
HEIGHT 8"
CIRCUMFERENCE 23.5"
PLEASE CONTACT US FOR AVAILABILITY OF THIS PRODUCT
PRICE IN USD
Realistic detail on the gorgeous monarch butterflies.
About the artist:
She is the daughter  of the very important potter Pilo Mora who taught excellence to some young potters in Mata Ortiz. Her realistic butterflies painted on extremely well formed pieces are distinctive of her work.