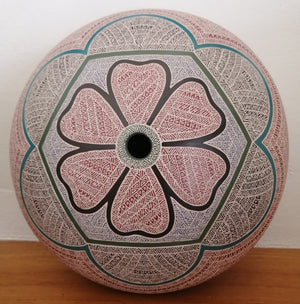 JAZMIN RAMIREZ
Sale price Price $410.00 Regular price
Extremely thin lines are carved on the piece with gracious design.
Height 3"
Diameter 7.5"
Please check for availability at orocarolina2@gmail.com
About the artist:
Daugther of very talented Angela Corona she learned pottery making when she was 12 years old (born in 2004).  She is nowadays attending secondary school and she says that she only works when she does not have homework to do and that she enjoys it very much to do pottery.