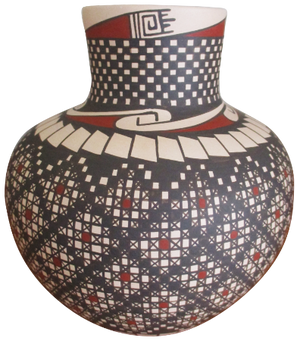 GUADALUPE LUCERO
Sale price Price $400.00 Regular price
Height 7"
Circumference 17"
PLEASE CONTACT US FOR AVAILABILITY OF THIS PRODUCT
PRICE IN USD
Elegant piece on its shape and painted geometrical design.
About the artist:
She has been doing pottery since she was 15 years old, she learned from her parents Pablo Lucero and Guadalupe Sandoval. She specializes in big pieces which are done by her husband Angel Bugarini and her.  Then she does the extremely well painted geometrical drawings. She deeply enjoys her potting.