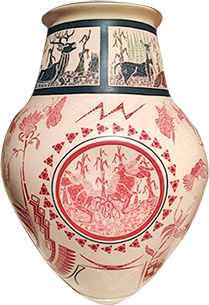 GUADALUPE GALLEGOS
Sale price Price $3,250.00 Regular price
Height 11.5"

Circumference 26"
Unbelievable carved-out design that captures different nature's scenes.                   
Please check for availability at orocarolina2@gmail.com
About the artist:
Featured in the book "The Many Faces of Mata Ortiz", Gallegos, a second-generation potter, dedicated the last years of his life forming little miniatures in which he carved nature scenes with extreme care and beauty. He was influenced by his famous aunt and uncle, Graciela and Hector Gallegos, Guadalupe always experimented with different techniques and clay.
The picture does not do the Pot justice and additional pictures can be forwarded upon request.