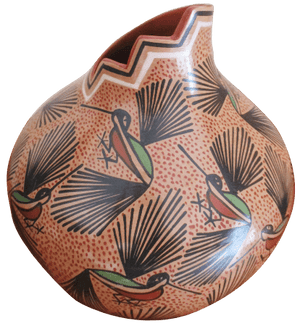 GLORIA HERNANDEZ
Sale price Price $510.00 Regular price $510.00
Height 7"
Circumference 17"
PLEASE CONTACT US FOR AVAILABILITY OF THIS PRODUCT
PRICE IN USD
Original design with fantastic birds in a very well polished surface.
About the artist:
Usually, she and her husband make  big pieces together but the one painting the piece signs it. They are a very successful couple of potters.   Her pieces are cheerful terracota color clay vessels in which she paints Pre-Columbian designs with manganese (black paint) lines and other colors.