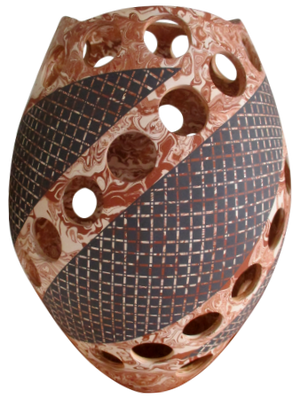 EFREN QUEZADA
Sale price Price $1,900.00 Regular price $1,900.00
Height 12.5"
Circumference 27"
PLEASE CONTACT US FOR AVAILABILITY OF THIS PRODUCT
PRICE IN USD
Piece made with 3 different colors of clay mixed to give a marble like surface. Surface that was decorated with perfect round holes and painted with geometrical design.
About the artist:
I talked to Guille, his mother in order to get information about this fantastic artist. He learned to make pots from The Master, Juan Quezada, his father.  At the beginning Efren said he could not make pots but his father urged him to learn: "You can do it" he said, "you just have to try harder". And he did. His new way to form pieces, with big, dramatic cuts on them show the expertise he acquired in the handling of the clay. He is also an expert in the use of the brush when he paints perfect geometrical designs.