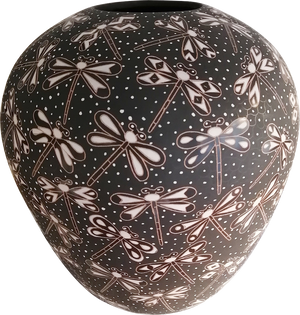 ELICENA COTA
Sale price Price $1,200.00 Regular price
Elicena and her husband Efrain Lucero paint and carve birds, insects and all kind of animals on the surface of the pot getting very appealing works of art.
PLEASE CONTACT US FOR AVAILABILITY OF THIS PRODUCT
PRICE IN USD
Height 10"
Circumference 27.5"
About the artist:
Efrain learned and started to work with clay since he was a teenager, learning from his father Efrain Lucero Sr.
His works are striking pieces in different shapes and impressive geometrical and animals designs, usually fishes, and insects.  He does a great team with his talented wife Elicena Cota. He has presented his works and won prizes in the annual Mata Ortiz contest and in the National Ceramics Contest in Tlaquepaque.