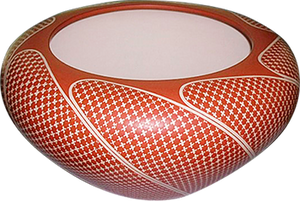 CARLOS LOYA
Sale price Price $1,450.00 Regular price
 Length 12"
His pieces reflect the elegant curved lines learned from Juan Quezada in the mimbres style.
Carlos Loya was awarded 1st place in the 2004 Concurso de Ceramica Mata Ortiz in the white polychrome category.
In the early 1980's, Carlos learned the art of Mata Ortiz pottery from the Quezada family.  In 2003 he won the galardon (the best of the show) in the Concurso, the annual contest among all the Mata Ortiz potters judged by an independent panel.  At the 2004 contest, he won first place for the best white and mimbres style pot.  In 2005 he won the first prize for the best clay pot at the Concurso Nacional Gran Premio de Arte Popular, a nationwide contest. Carlos was invited to display his works at an exhibit in Germany in 2006.