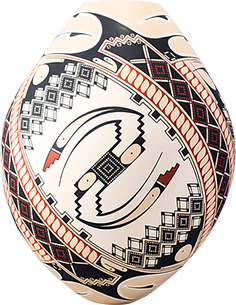 ADRIAN ROJAS
Sale price Price $1,500.00 Regular price $1,500.00
HEIGHT 14.5"
CIRCUMFERENCE 34"
PLEASE CONTACT US FOR AVAILABILITY OF THIS PRODUCT
PRICE IN USD
Superb white piece painted with exact and complicated pattern on the Mata Ortiz traditional way.
About the artist:
Adrian Rojas is a master and award winning artist. He often paintsnative birds and beautiful images of fishes.
Before 2006, Adrian was virtually unknown, then he won the Concurso de Mata Ortiz with a masterpiece Olla featuring orchestrated flames, arrows and windmills on a white clay base.