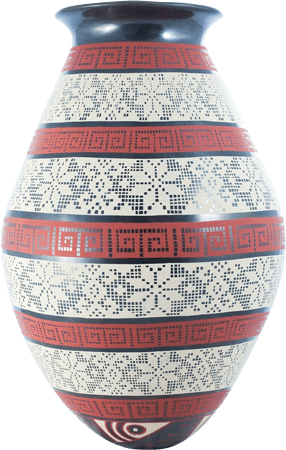 ABRAHAM GUTIERREZ
Sale price Price $990.00 Regular price
Height 13.5"
Circumference 28"
PLEASE CONTACT US FOR AVAILABILITY OF THIS PRODUCT
PRICE IN USD
Gorgeous piece painted with extreme geometrical detail resembling knitting stitches.
About the artist:
Now in 2018 he is in his late twenties, he learned to do pottery from his father Armando, but far from what his father did (geometrical perfect designs) he decided to carve nature's scenes with plants and animals usually rams or deer on them.  He paints the whole white base with red or black color and starts by drawing the design (sgraffito technic) onto the piece with realistic perfection.